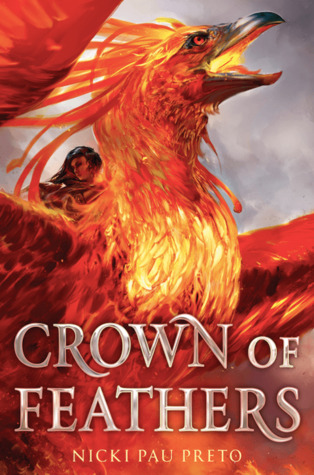 GoodReads: 

I had a sister, once…

In a world ruled by fierce warrior queens, a grand empire was built upon the backs of Phoenix Riders—legendary heroes who soared through the sky on wings of fire—until a war between two sisters ripped it all apart.

I promised her the throne would not come between us.

Sixteen years later, Veronyka is a war orphan who dreams of becoming a Phoenix Rider from the stories of old. After a shocking betrayal from her controlling sister, Veronyka strikes out alone to find the Riders—even if that means disguising herself as a boy to join their ranks.

But it is a fact of life that one must kill or be killed. Rule or be ruled.

Just as Veronyka finally feels like she belongs, her sister turns up and reveals a tangled web of lies between them that will change everything. And meanwhile, the new empire has learned of the Riders' return and intends to destroy them once and for all.

Sometimes the title of queen is given. Sometimes it must be taken.
This book was intoxicating from the first chapter and to be fair I was ready to dive in after reading the blurb, no swaying needed.
I couldn't believe just how complex and diverse a world Preto built, and I don't mean just the characters I mean the lush history and even topography and geography. Preto has an amazing eye to detail and one that I really want to harp on while I write this. I love world building. I adore it, so, to me the building of the world and showing things off She used details from the past to enhance the present and interweaving them together flawlessly. We have a history of fierce queens and a past tale of sisters that mirrors a present tale.
I was nothing short of impressed. She made my heart drop to my stomach and soar back up, and it was the best emotional roller coaster I have ever ridden. I would certainly categorize this as one of the best books of 2019 and one of the best reads of the year for myself/ With books like this and Descendant of the Crane coming out this year, my GoodReads favorite shelf is going to be massive by December. 
You want to cheer for the Phoenix Riders and you are sitting on the edge of your seat when danger lurks near -and let me tell you that happens quite often-. You are given multi-faceted views of characters, and no one is left 2D, Preto has given us full characters, they may not always be relatable in what they do but their intentions are; well that's debatable with Val but I won't judge you if you uh, find yourself identifying with her…just…remind me not to upset you ever. Not to mention Preto had me nearly crying before I even really hit the 15% mark, I mean, seriously, that's unheard of. 
Unable to put down the book, I stayed up until dawn, I needed to find out what would happen to 'Nyk' or Sev, to know what would happen next in the world,  to wonder what in the world Val was up to. And the ending had my jaw dropping to the floor. I don't know how I am supposed to wait for book 2.
Seriously, one of the best fantasy reads for 2019 and one to go out and read if you have any inkling too.
U.K. Release Date: April 25, 2019, through B&W Publishing.
Pros:
– Well developed characters
– Amazing and expansive world building
– A perfect person that you love to hate
– Characters that are not always what they seem
– Great character growth as well, seriously, it's impressive
– Phoenixes
– Baby Phoenix
– TWISTS. SUCH TWISTS.
– Phoenix Riders
– Magic
Cons:
– It's so hard to not want to scream 'NO' or 'WHY' while reading
– This will cause you to stay up super late
– You will probably at least get teary-eyed if not full on ugly cry.
– You may not like how much world building there is, so I'll say beware now
– This is not a relaxing read, please look to points 1 & 3 again.
– WHAT WAIT IS THIS FOR BOOK 2?!
Content Warning: There is the death of animals and people, and violence.
**I received this book from the publisher via NetGalley in exchange for my honest opinion.**