Hey everyone!
I was going to do today's BE Spring prompt, but Michelle's post was so perfect and like I would do everything she did, so, just go read her post here.
So, what have I read this week?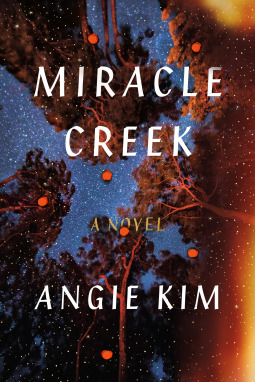 GoodReads:

A literary courtroom drama about a Korean immigrant family and a young, single mother accused of murdering her eight-year-old autistic son

My husband asked me to lie. Not a big lie. He probably didn't even consider it a lie, and neither did I, at first . . .

In the small town of Miracle Creek, Virginia, Young and Pak Yoo run an experimental medical treatment device known as the Miracle Submarine—a pressurized oxygen chamber that patients enter for therapeutic "dives" with the hopes of curing issues like autism or infertility. But when the Miracle Submarine mysteriously explodes, killing two people, a dramatic murder trial upends the Yoos' small community.

Who or what caused the explosion? Was it the mother of one of the patients, who claimed to be sick that day but was smoking down by the creek? Or was it Young and Pak themselves, hoping to cash in on a big insurance payment and send their daughter to college? The ensuing trial uncovers unimaginable secrets from that night—trysts in the woods, mysterious notes, child-abuse charges—as well as tense rivalries and alliances among a group of people driven to extraordinary degrees of desperation and sacrifice.

Angie Kim's Miracle Creek is a thoroughly contemporary take on the courtroom drama, drawing on the author's own life as a Korean immigrant, former trial lawyer, and mother of a real-life "submarine" patient. An addictive debut novel for fans of Liane Moriarty and Celeste Ng, Miracle Creek is both a twisty page-turner and a deeply moving story about the way inconsequential lies and secrets can add up—with tragic consequences.
This book is definitely a contender for favorite contemporary fiction for 2019 for me. Not only that but aside from being an amazing read, it also contributed to my participation in the YARC19 Challenge! Yaaaay! Honestly, it was pretty amazing, and you can click here for my Goodreads review. If this is your sort of genre at all, please go check it out/buy it if you get the chance!
GoodReads:

By 4042 CE, the Hierophant and his Church have risen to political dominance with his cannibalistic army of genetically modified humans: martyrs. In an era when mankind's intergenerational cold wars against their long-lived predators seem close to running hot, the Holy Family is poised on the verge of complete planetary control. It will take a miracle to save humanity from extinction.

It will also take a miracle to resurrect the wife of 331-year-old General Dominia di Mephitoli, who defects during martyr year 1997 AL in search of Lazarus, the one man rumored to bring life to the dead. With the Hierophant's Project Black Sun looming over her head, she has little choice but to believe this Lazarus is really all her new friends say he is–assuming he exists at all–and that these companions of hers are really able to help her. From the foulmouthed Japanese prostitute with a few secrets of her own to the outright sapient dog who seems to judge every move, they don't inspire a lot of confidence, but the General has to take the help she can get.

After all, Dominia is no ordinary martyr. She is THE HIEROPHANT'S DAUGHTER, and her Father won't let her switch sides without a fight. Not when she still has so much to learn.
I really enjoyed this, but, you'll have to wait until April 30 to read my review as I'm part of the Blog Tour for this! Release date May 19, 2019.
Goodreads:

Thirteen Months of Sunrise is a collection of stories by the author, journalist, and activist, Rania Mamoun. Rania was featured in previous PEN Award winning project, The Book of Khartoum, the first ever anthology of Sudanese short fiction in translation. The stories in this collection have been translated from Arabic into English for the first time, by translator Elisabeth Jacquette. Thirteen Months of Sunrise is part of Comma's commitment to publish writers in translation from 'banned nations' in 2018.
This is a very short book of short stories, I was lucky enough that Comma Press was looking for reviewers and I reached out, getting an e-copy in exchange for an honest review. These short stories read more like beautiful and lyrical poems to me. To read words that have travelled so far and manage to be so poetic and melancholic, it's wonderous and really these were hauntingly beautiful to read. Passing was my favorite, it had me crying in the library. [We had an outing and I didn't want to check out more books so I brought my Kindle.] It's poignant and harkens to a world that everyone cannot understand, in fact not many at all, and it gives you this glance into a world where beauty and tragedy walk often side by side. There's hope, devastation, death, love, and a multitude of feelings I can't begin to describe.  If you get a chance to read this, and you love poetry and you're okay with crying, go ahead and read it. This book tears out your heart in the most wonderful of ways, I'll be looking into getting her first anthology after this.
What am I still currently reading?
GoodReads:

Packed with high stakes mystery and tons of heart, this first installment in a new series introduces Kazu Jones-a spunky, scrappy detective who's this generation's Harriet the Spy.

When a string of dognappings grips her Denver neighborhood, Kazu Jones vows to track down the culprits. She can't stand to see more dogs go missing-especially once her neighbors' beloved pet is taken because of her gigantic mistake.

With the help of her gang-including her best friend and expert hacker, March; and her ginormous, socially anxious pup, Genki-Kazu uncovers evidence that suggests the dognapping ring is bigger than she ever imagined. But the more she digs, the more dangerous her investigation becomes. The dognappers are getting bolder, and Genki could be next.
I'm reading this out loud to the mini-me, it's another read for a Book tour, so keep an eye out next week. This is middle-grade fiction and so far we are LOVING it, haha too bad there's not enough saliva in my mouth to keep up with the demands of the little one, seriously my mouth feels like the Sahara after we finish reading every night. I sense this being a 5 cups of coffee book.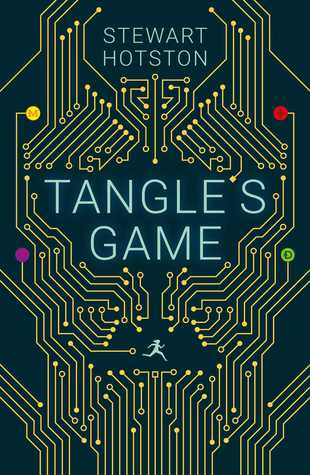 GoodReads: 

Tense tech-thriller based on the growing role of blockchains, encryption and social media in society.

Nowhere to run. Nowhere to hide.

Yesterday, Amanda Back's life was flawless: the perfect social credit score, the perfect job, the perfect home.

Today, Amanda is a target, an enemy of the system holding information dangerous enough to disrupt the world's all-consuming tech – a fugitive on the run.

But in a world where an un-hackable blockchain links everyone and everything, there is nowhere to run…
Labelled as Sci-Fi on NetGalley, I would say this is more like a political of thriller of sorts, I like the plot, but, while I thought the reviews about the MC were harsh, I get it now. I feel the author might be overcompensating for not being an OwnVoices author and then well the personality of the MC just…stinks. You have no sympathy for her. NONE.
I don't want this to be basically a WWW with me slapping a different title on, so, I'm going to dive more into my week! I received probably about seven books in the mail for review this week, I'm very excited about some, the ones I don't enjoy, unless they're harmful or offensive will make their way to a certain awesome blogger's program, but since I'm not sure I'll have any to donate, I won't ping this amazing blogger until I know for sure! One is a children's picture book. Now. I don't want you all scared and thinking 'oh god Haley's just grabbing free books and we're going to have to endure The Little Engine That Could reviews all the time now.' Actually, I thought this was a great opportunity to do something more with my daughter, she's at that age between middle grade/chapter books and picture books, so this is my way to have fun with her while still doing book blogging things.
Also, I'm going to be super busy this weekend, it's not just Easter, it's us getting another date night that lasts the whole night, this is like a holiday for us! Also Saturday will be us seeing if we can't hunt down a bookshelf, and I'm picking up another mystery, but, I'm buying this one and you all should check it out if you read middle-grade/your kid does and you want to support a POC author and amazing publishing company:
GoodReads: 

The detective duo everyone is dying to meet! 

Summer in London is hot, the hottest on record, and there's been a murder in THE TRI: the high-rise home to resident know-it-alls, Nik and Norva. Who better to solve the case? Armed with curiosity, home-turf knowledge and unlimited time – until the end of the summer holidays anyway. 

The first whodunnit in a new mystery series by Sharna Jackson.
I just want to say, you should definitely go check out Sharna Jackson on Twitter, but not only that, her publishing company; Knights Of, is a company dedicated to diversity in children's books not just in content but in the authors they represent, so, that's pretty cool.
And finally, Sunday will be filled with candy and eggs and then me hopping onto Twitter to host a BESpring19 Twitter chat!
*coughs loudly* @Sammers65 & @DramaHuman31 will be co hosting the next #BEspring19chat which is happening THIS SUNDAY. Well it's Sunday for me, anyhoo, who's planning on joining in? – Clo pic.twitter.com/FsWqghV9Fu

— Bookend Events #BEspring19 (@bookend_events) April 18, 2019
Alright guys, toddles for now! Tomorrow expect my Crown of Feathers review, as it's UK publication date looms nearer! (April 25, 2019)