I've decided to divide this by Classics and YA, I couldn't lump them all together and pick from them all as it's one of my favorite genres after all! So here we go! [Next week I'll do my favorite YA dystopia picks!]
5. 1984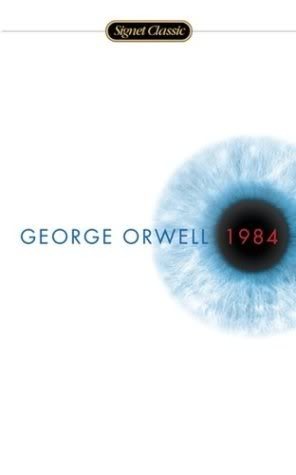 Big Brother is watching, guys, and I love this book. Now, I wouldn't say it was the best Dystopia novel of that era but it was still impactful and well, still is today. This isn't the sort of novel where you come out with a happy ending and I think that's one of the reasons I love dystopia, you never know what sort of ending you'll get. Our protagonist finds love in a world where he's one of the few not to be brainwashed into loving Big Brother, and where independent thinking isn't allowed, more than that it really just doesn't happen.
4. The Handmaid's Tale


I cannot sing Atwood's praises enough on this. She took something most other authors just didn't even conceive of, writing this tale with a female perspective (and not just because Atwood's female, but because her protagonist is) this one actually made me uncomfortable to read because in truth I felt that it hit too close to home, this was all too probable when you see how much power others have over women's bodies. Not to mention we now have an amazing show because of it and Atwood is involved with it. Rumor is she's going to maybe write a sequel.
3. Anthem


Admittedly I haven't read this or a couple of others since 10th grade which was a very long time ago but I remember this being the only Ayn Rand book I actually liked. Now don't get me wrong she writes with a power that is undeniable but I utterly hated Atlas Shrugged, I still have nightmares about it though I hear good things about The Fountainhead which is now on my list. Anyway, I have a funny feeling George Orwell may have gotten a few ideas from Ayn, where in her book Equality 7-2521 dares to dream of individualism and to love the woman that he chooses. It's great and fast-paced, and just imagine, she published in 1938!
2. Fahrenheit 451


My man! Ray Bradbury!! I freakin' LOVE The Halloween Tree (admittedly love the movie more but he had a hand in that as well so I don't feel guilty about that). But before I loved The Halloween Tree, I loved Fahrenheit 451. This actually reminds of things that have happened before and seem just so plausible to happen again, we have our Firefighter Montag who burns books that are forbidden. But he finds himself wondering, thanks to the question of another, what's in the books he burns? Montag never questioned it before it was his job and he just did it, but what if he peeked into those forbidden tomes? Honestly how easy is it to imagine a world where instead of seeking out knowledge we easily if not eagerly destroy it? (No matter the form it comes in)
1. Brave New World


I've read this at least twice, there may have been a third time during pregnancy but we'll contribute memory loss to foggy prego-brain. This book rattled me to my core. This world seemed so foreign and scary to me the first time I read it when I was in middle school. Now though, it is ten times scarier and not nearly as foreign. We watch politics going crazy all over the world, people so scared that they are angry and ready for something easy to take away all the pain. And the ending, the reaction I had the first time I read it has never left me, I still feel that same reaction every time.
That's the thing with all these dystopia novels, no matter if they're classic or YA, they're all so plausible in a world that's so full of turmoil. Whether it's a world where we only live for pleasure, one that takes away the core of our individualism, or one that takes away the complications of emotions that plague us.
There we go my 5 favorite Dystopia classics, I do plan on doing some more dystopia reading this year of both old and new so who knows what this list will look like by 2020!