Synopsis:

The second book in a series where your favorite literary characters come to life, inspired by the timeless classic, Little Women!

There's no one better than the boy next door. At least not according to Aurora Campbell, fourteen, who has been in love with Tobias May since their very firstsandbox kiss. The problem is, he's in love with her older sister, Merrilee. And Merri is already dating one of his best friends.

Rory is learning all about pining as her class reads The Great Gatsby, a book she doesn't find "great" at all. Also not great—her GPA, something she needs to fix, quickly, if she'd like to apply for the chance to spend a week studying art with her hero in New York City over winter break. But when Ms. Gregoire assigns her to read Little Women for extra credit, Rory discovers more than she expected—both about herself and Toby. Maybe she wasn't in love with the boy next door. . . but the boy next story.

Loveis complicated, and it's all about to get even trickier for Rory at Reginald R. Hero Prep . . . where with the help of one quirky English teacher, students' fantasies come true, often with surprising consequences.

BOOK INFORMATION
The Boy Next Story (Bookish Boyfriends #2) by Tiffany Schmidt
Publisher: Amulet Paperbacks
Release Date: May 21st 2019
Genre: Young Adult, Romance, Contemporary
GoodReads Link
Where to Buy the Book
Amazon  Book Depository  Barnes&Noble  iTunes  Google Books
My Review
For those of you who may have peeked at my blog before, you'll notice it's not common for me to have contemporary books at least outside of the thriller or mystery field but when I read the blurb for this book and saw a chance to sign up for the blog tour, I knew I had to read it.
And guess what?
I'm so glad I did.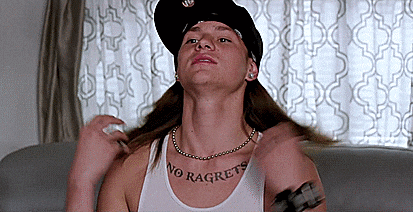 That will be my only gif use for this blog entry.
Schmidt does such a WONDERFUL job with intertwining a classic novel with a modern-day YA story, I know that 16 years old me would have somehow loved this even more than I'm not telling you my age me did.
While Aurora, or Rory as she prefers, I would say I'm half Merri half Rory of the sisters but I digress, is a freshman in high school and it's been a while since I was, she was still so relatable! She is an introvert to a T and it was nice and she didn't act as if she were oblivious to the fact that she was awkward but she also didn't constantly harp on that fact. She was just a freshman switching to a new school and learning to deal with quite average teenage problems.
Another thing Schmidt does an amazing thing with is that she's built such a fantastic cast of characters. The parents may not always understand their daughters but it's clear they love them and are quite supportive, especially their Dad with Rory's art. Rory's sisters are loveable and frustrating at times and well, to be honest, they made me miss my sisters a lot haha.
If you've read the first book in this series, you'll know their amazingly fabulous English teacher is the sort of person who knows just what her students need and she gives Rory Little Women and if you've read that book, or seen the movie or even just heard about it, you may know that it is not just a book with a love story or two, it's a book about sisters. And sisters can be an important part of your life, especially when growing up.
Rory begins to discover what loving someone really means, it's more than just getting what you think you want, it's about loving them for who they truly are.
The fact that Schmidt seamlessly switches between the parallels of Rory and Amy made the story flow so well I forgot that this was intertwining two different worlds. It's always really important for me to have something besides romance in a book, and the sisterly love and the trials of Rory's first semester of freshman year really did the trick for me. More than that…I am a gushy fan girl about this and absolutely adored the romance aspects as well. This never happens, and I'm so excited to go back and read the first book and wait for the next.
Honestly, please go read this if you want a story about love trials, sisters, high school, and learning to let yourself be, well, yourself.
5/5 Cups of Coffee from me, but now onto the next part…
I got to make a playlist!
This is the first time I've done one to a book instead of my own writing so I was super hyped.
Without further ado here is my The Boy Next Story playlist!
You Picked Me – A Fine Frenzy

 Shake It Out – Florence + The Machine

 Make Me Yours – Beth Crowley

 Gimme Sympathy – Metric

Sinners – Lauren Aquilina

Medicine – Havelin

Slow Fade – The Clicks, Cece Francis

 When I was Younger – Liz Lawrence

 Let My Love Be Heard – Phoenix Chamber Choir

 Night Sky – Matthew Parker

 Every Time We Touch – Cascada

 I Choose You – Sarah Bareilles

 Fidelity – Regina Spektor

 Brave Enough (feat. Christina Perri) – Lindsey Stirling

 Cradled in Love – Poets of the Fall
About the Author
Tiffany Schmidt is the author of Send Me a Sign, Bright Before Sunrise, and Hold Me Like a Breath (Once Upon a Crime Family book 1). She's found her happily ever after in Pennsylvania with her saintly husband, impish twin boys, and a pair of mischievous puggles. You can find out more about her and her books at:
Tour Schedule
[Please click on the picture to be redirected to the full schedule post!]
GIVEAWAY PRIZE
Win a copy of BOOKISH BOYFRIENDS: THE BOY NEXT STORY byTiffany Schmidt (US Only)
Start Date: 21stMay 2019
End Date: 4thJune 2019
Click Below for Link:
http://www.rafflecopter.com/rafl/display/d9681b86368/?
For more entry opportunities check out the Instagram giveaway on my page which you can find your way to through the widget on the right side. ->