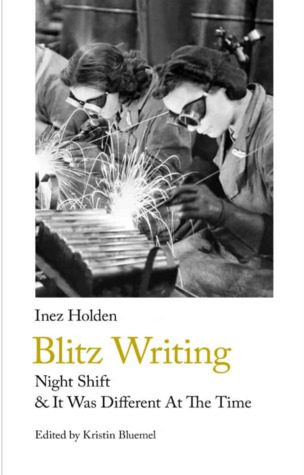 GoodReads:

Emerging out of the 1940-1941 London Blitz, the drama of these two short works, a novel and a memoir, comes from the courage and endurance of ordinary people met in the factories, streets and lodging houses of a city under bombardment. Inez Holden's novella Night Shift follows a largely working-class cast of characters for five night shifts in a factory that produces camera parts for war planes. It Was Different At The Time is Holden's account of wartime life from April 1938 to August 1941, drawn from her own diary. This was intended to be a joint project written with her friend George Orwell (he was in the end too busy to contribute), and includes disguised appearances of Orwell and other notable literary figures of the period. The experiences recorded in It Was Different At The Time overlap in period and subject with Night Shift, setting up a vibrant dialogue between the two texts.

Inez Holden (1903-1974) was a British writer and literary figure whose social and professional connections embraced most of London's literary and artistic life. She modelled for Augustus John, worked alongside Evelyn Waugh, and had close relationships with George Orwell, Stevie Smith, H G Wells, Cyril Connolly, and Anthony Powell. The introduction and notes are by Kristin Bluemel, exploring how these short prose texts work as multiple stories: of Inez Holden herself, the history of the Blitz, of middlebrow women's writing, of Second World War fiction, and of the world of work.
Thank you Handheld Press for sending me a review copy, in exchange I'm providing you all with an honest review.
This book was a nice change of pace to my other recent reads. I'm a huge history buff and I had done a lot of WWI and Russian Revolution reading for my nonfiction so to have a change of pace with WWII was great. Not to mention this is a 2 for 1 really, we get Inez Holden's novella Night Shift along with her wartime memoir, It Was Different At The Time.
Both had their own slice of history to bring to the table, they are both pieces though that are exploring the sort of people that exist in this time period. This isn't a look at WWII as an event as much as a time period in someone's life. Holden has a talent for describing people as an outsider that's a joy to read and the details she provides are unlike other accounts I've read. In her novella, she describes the work week, and this includes the machinery that many of us now forget were used to help so much in the war and that was manned quite a bit by women at that point in time. She also recalls things as 'mundane' as the buses, and bicycles people used to get around during air raids, and this goes for her memoirs as well.
Oh to be a fly on the wall for Holden's life, she knew an amazing group of people and thanks to the introduction by Kristin Bluemel we get to know more of what an amazing woman Inez Holden was herself. This is not for reading to get to a plot or experience a satisfying ending, it's for just plain enjoyment and observation. I can't say I recall being on the edge of my seat while reading this but I did thoroughly enjoy it for what it was, the small nuances and bits of information were a true delight. I am happy to say that I look forward to reading more about and by Inez Holden.
I would recommend this to any History Buff especially those interested in WWII.
4/5 Cups of Coffee from this caffeine addict! This book will be launched on May 31st at The Second Shelf Bookshop in London!