A queen foretold to save the world…
Free from Malek's clutches, Lyana returns to the world above determined to keep the isles from falling. But in a land where magic is forbidden, convincing the avians to believe in her power takes the one thing she doesn't have—time. With Xander's help, she must unravel the puzzle of the rift and gain their trust or lose her home forever.
A dragon in search of his destiny…
Turned into a monster by the king he loathes, Rafe flees Da'Kin. Yet even with the help of his crew, he can't outrun the new power simmering beneath his skin or the gruesome visions haunting his dreams. A dark spirit calls out to him, and soon he'll have to answer.
New enemies change the game as the final battle draws near…
Stuck in her spirit form, Cassi is at the mercy of the man she betrayed. Before he wreaks his vengeance, she must tell someone what she witnessed in the sacred nest. A demon walks the earth, an evil no one anticipated. But with all her friendships broken, who among them will believe her?
Prophecies unravel. War arrives. And passions burn, threatening to set the world aflame.
Release Date: June 21, 2021
OUT NOW
My Review
Book 1: The Raven and the Dove Review HERE
Book 2: The Hunter and the Mage Review HERE
Once again we're starting where we left off and once again Davis gives us a running start. Seriously, I don't know that there's ever a lull in this series so far. Every moment if not on the run has an underlying current of tension.
Lyana and Rafe have changed so much and then to see everyone else growing and changing, it's almost a little emotional after all we've been through with this cast of characters. Xander is finding his own worth. Cassi, she's almost like a phoenix, she's been burnt out and is rising from her own ashes now. Even Malek is morphing in his own ways.
The prophecy is carrying out and time is speeding so quickly there's a question in the air. Will any of what they're doing going to be enough, and if it's not, how can they get to that point?
The prophecy is also a more heavily involved point and we get to see its makings which makes for some even more super tense moments that just had me on edge and breaking my heart.
I've always enjoyed the writing style Davis has for this series and this book was no different and I really have found it to be my favorite so far of the three and that gives me a lot of confidence for the fourth and final book, The Godborn and the King.
The previous book and even the first book I had a bit of an issue with pacing but now it's smoothed out. She's hit this stride that I don't think will slow down until the final ending in the next and last book. I did not even notice how long this was because the pacing was so well done I didn't keep checking to see how long I had left which I can tend to do when I get into longer books. There's so much to be done and so little time that this is the perfect length to set up for what will come next.
Davis rips your heart out, stomps on it with a little dancing flair and then leaves you gaping at the ending.
Once more I'm left SHOOK AND NEEDING ANSWERS.
SERIOUSLY THAT ENDING. We have so much going on and I can't believe we are almost done with this series, it saddens me a little. I have grown to become so attached to Lyana and Rafe, so invested in this world of theirs they sacrifice so much for that I'm not sure that I won't be a huddled mess after the final book.
If you're looking for a book to rip out your heart, turn it to ash, then throw those ashes in the air like confetti…then I recommend this book and the rest of the series.
Thank you so much once more to Kaitlyn Davis for an eARC in exchange for my honest review. This book is out now and there's also an Instagram tour going on for it right now!
About the Author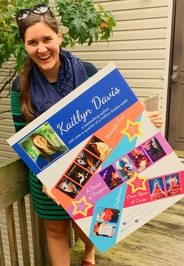 Bestselling author Kaitlyn Davis writes young adult fantasy novels under the name Kaitlyn Davis and contemporary romance novels under the name Kay Marie. Publishers Weekly has said, "Davis writes with confidence and poise," while USA Today has recommended her work as "must-read romance."
To learn more about her contemporary romance novels, visit her Goodreads author page for Kay Marie here: https://www.goodreads.com/Kay_Marie
Always blessed with an overactive imagination, Kaitlyn has been writing ever since she picked up her first crayon and is overjoyed to share her work with the world. When she's not daydreaming, typing stories, or getting lost in fictional worlds, Kaitlyn can be found playing fetch with her puppy, watching a little too much television, or spending time with her family. If you have any questions for her–about her books, about scheduling an event, or just in general–you may contact her at: KaitlynDavisBooks@gmail.com
Sign up for Kaitlyn's newsletter to stay up-to-date with all of her new releases and more! http://bit.ly/AuthorNewsletter
Author Links