In preparation for the paperback editions of both The Honours and The Ice House, Tim Clare was super cool and offered to do interviews with bloggers.
If you've seen my screeching/raving review of
The Ice House
, then you know I immediately reached out. We did this over a few days, just me tossing some questions and him tossing back some answers.
---
Me: I figure I'll send a couple of questions your way, and anything you don't want to answer, just skip over! I took a small break from twitter lol, it was a bit hectic the past couple of days! I would love to know 'the basics!'
What is your writing process like? Does it vary for each project? What led to your inspiration for The Honours and The Ice House? They're so unique and in a way, they give me His Dark Material vibes in the respect that they are so unique and built up so well!
Tim Clare: My writing process is often that an idea will sort of build, ominously, like when you find one of those massive wasp nests in an attic that has obviously been growing for years. The idea just starts to accumulate brain space, this papery cocoon in some annex of my mind, until eventually I can't ignore it anymore and I have to admit to myself it needs dealing with.
It's tricky because I put off writing The Honours for years. I really didn't want to write it because I didn't want the hassle, and I'd consciously quit writing fiction. I had a breakdown in my mid-twenties after really being unkind to myself about becoming an author, finding success, etc. I was, honestly, terrified about returning to it, and having to face all those demons of self-doubt and ambition again.
Eventually, for reasons which are more to do with maths than being drawn to the era, I realised I was going to have to write a bit set in the 1930s. The Honours was originally going to be a
~10k
prologue for The Ice House. (yes, I write
10,000-word
prologues. They always get cut! The one I eventually wrote for The Ice House was
13k
and that got cut too!) But it kept expanding, and I realised I could barely write two sentences without having some question about the era I would need to answer if I wasn't going to write the most vague, detail-free bilge. So I started to research. That process lasted two years! It was a wonderful displacement activity.
As I've got back into writing, I need less of a run up. If I have anything close to a process, it goes: write a few pages in my notebook or in a new Word file, as a kind of carpet sample or proof of concept. Just to test the voice of it, to see if it feels like a thing that has legs. Then, having tested it, maybe go and make some notes about what I envision the shape of it being. For The Honours and The Ice House, I kept one continuous file for either, where I just dumped random thoughts, bits of info, world history, etc, whenever they occurred to me. Then I start writing. I'm mostly a pantser, but with periodic crisis meetings where I gather all the pages together into a situation room and go 'look, this isn't working. What the hell are we going to do?'
---
Me:
It sounds like a saga of a relationship between you and writing! I have to say I'm super grateful that you wrote these books, and I'm sure many other readers are! And also, I am highly disappointed there is no 13k prologue for The Ice House Did you enjoy getting back into the swing of writing? Speaking of crisis meetings, I'm curious, do your characters ever go rogue, taking the story into their own hands and run off with your plot?
---
Tim Clare: I've had incredibly productive periods of writing, and heartbreaking strenuous fallow spells. Because I've got so much on at the moment, work on my latest novel has been patchy – some bits where it flowed easily, but with long gaps where other work took me away.
I'm waiting to see what happens with it – everything I write is a bit of an experiment and risk with me when it comes to fiction, so I often don't have much of a roadmap for how I'm doing or if it will work.
Because I semi-pants everything I write, I'm kind of relying on characters to run off with the plot. In fact, the biggest struggles I've had is when they're poorly motivated and I'm trying to force them to engage with Set Piece A.
---
Me: Anything you want the readers to know about it? Do you see yourself perhaps sticking to nonfiction for a bit? [Until another story demands to be written lol] And do you have anything you'd like to tell your readers? Whether it's about the Honours or We Can't All Be Astronauts–?
Tim Clare:
I like fiction and non-fiction and continue to write both. I'm sorry I can't be any more specific than that at this stage!! I'd never want to stand over a reader's shoulder and tell them how to read my work.
But I wrote THE HONOURS and THE ICE HOUSE to be read twice.
So you get to the end and go 'ohh'. Then you reread with the new knowledge and stuff you didn't see the first time around pops and it's a distinct experience. I'm not sure if that might sound to some readers a bit pretentious or self-important. But they are intricate books, particularly THE ICE HOUSE, and really I just tried to bake in as much stuff as I could, so that they not only survive but actively reward a second pass.
Me: I don't think it sounds pretentious!
I know I definitely plan on rereading the two! Thank you so much for taking the time to talk with me!
---
About Tim Clare
I'm the author of 

THE HONOURS

, 

THE ICE HOUSE,

 and 

WE CAN'T ALL BE ASTRONAUTS

 (winner Best Biography/Memoir – 2009 East Anglian Book Awards).

I present the creative writing podcast DEATH OF 1000 CUTS for anyone who wants to know how to write a novel, write great fiction, and get published. My Couch to 80k Writing Boot Camp is a free 8 week writing course by podcast.

I'm a stand-up poet with several award-winning 5 star shows under my belt.
Author Links
Website | GoodReads | Twitter | Facebook
---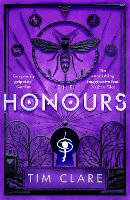 TRUE HONOUR IS ENDLESS. JOIN US.

1935. Norfolk.

War is looming in Great Britain and the sprawling country estate of Alderberen Hall is shadowed by suspicion and paranoia. Thirteen-year-old Delphine Venner is determined to uncover the secrets of the Hall's elite society, which has taken in her gullible mother and unstable father.

As she explores the house and discovers the secret network of hidden passages that thread through the estate, Delphine uncovers a world more dark and threatening than she ever imagined. With the help of head gamekeeper Mr Garforth, Delphine must learn the bloody lessons of war and find the soldier within herself in time to battle the deadly forces amassing in the woods . . .

The Honours is a dark, glittering and dangerously unputdownable novel which invites you to enter a thrilling and fantastical world unlike any other.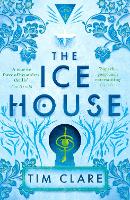 WAR DOESN'T END. IT SLEEPS.

Delphine Venner is old, but she remembers everything.

She remembers what it is to be a child of war, she remembers fighting for her life and what the terrifying creatures from another world took from her all those years ago. She remembers the gateway, and those she lost.

And in that other world, beast-filled and brutal, someone waits for her. Hagar, a centuries-old assassin, daily paying a terrible price for her unending youth, is planning one final death: that of her master, the Grand-Duc. A death that will cost her everything. A death that requires Delphine.

Voyaging into this violence and chaos, Delphine must remember who she really is and be ready to fight, before war reawakens. But in the battle to destroy an ageless evil, will both worlds be saved – or will every mortal creature lose everything?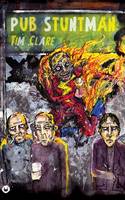 Welcome, hello – brush the grass from your jeans,
I've just been explaining what 'patronise' means.
We say what you're thinking – we do it in rhyme
sit down, shut up, cos it's poetry time.

A poet, a comedian and a dab hand at the ukulele, Tim Clare is a one man variety show. His debut collection mixes the surreal with the satirical. Pub Stuntman takes in celebrity zombies, dandified identity fraudsters and a gaggle of middle class girls ("so much richer than dustmen, yet poorer than earls"). Both jaunty and dark, Clare is like his eponymous Pub Stuntman – an unabashed show-off who you can't help but admire for his verve.

Tim Clare is the author of the prize-winning memoir We Can't All Be Astronauts and two highly acclaimed solo stage shows, which he has toured worldwide. He is one of the UK's most popular stand-up poets and a familiar face at both literary and music festivals.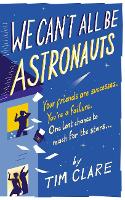 '"Right!" My Dad slammed his fist against the dashboard. "If you want to die let's f***ing die together!"
"Dad…don't," I said, referring to the profanity rather than the death-threat.
But my father was lost in his own private Thelma and Louise moment. His sleep-deprived eyes were like ping-pong ball halves. His heel hit the accelerator…'

Tim Clare had always dreamed of greatness. Of writing a critically-acclaimed bestseller and quitting the rat-race of everyday life. The problem was that his friends had got there first and he was… well… nowhere. Seething with envy, single and still living with his parents, he decided to have one last shot at getting his masterpiece published. After all, things couldn't get any worse. Could they?

From grovelling shamelessly to Jeffrey Archer on a reality TV show to a fraught encounter with The Most Powerful Woman in Publishing, a spectacular mental breakdown to an excruciating suicide pact moment with his dad, Tim soon finds the answer is a resounding 'yes'…