Hey all, another tag is coming your way, I'm just too tired after like a concert and weird chest injury, I'm just ready to sleep my life away but first, I was tagged by the amazingly awesome Isabelle @ Bookwyrmbites. She got it from Lindsay @ Singer of Stories.
So here we go!
WHAT IS THE LAST BOOK YOU MARKED AS READ?
That would be the last book I finished reading, Ghondatha. I really try to keep up with my GR on what I'm reading and what I've finished, it helps me so much when I go to look at what I've done for the month lol.
WHAT IS THE LAST BOOK YOU MARKED AS "TBR"?
That would be Shadows of the Short Days by Alexander Dan Vilhjálmsson. Joanne Harris rated it and I'm in love with one of her books, so I figured, if it's good enough for her, it's good enough for me. It hasn't come out yet but you can bet I'll be watching for it! It's also set in Reykjavik which I always find to be beautiful, so, I'm already a sucker for the setting.
WHAT BOOK DO YOU PLAN TO READ NEXT?
I'm getting my NetGalley list under control currently, and I've already started my next read but haven't been able to go full throttle if you know what I mean, just read the first couple of chapters, I start the real reading tonight and that's The Fever King by Victoria Lee. [Thanks for the rec, Kal- The Fever King Review]
I can honestly say that even though I've only read 2 chapters in, it's already sucked me in which is impressive. It's like Descendant of the Crane all over again lol.
I also have two other goals for this week, so, we'll see lol. I was hoping to have this read done by tomorrow, but, shit happens.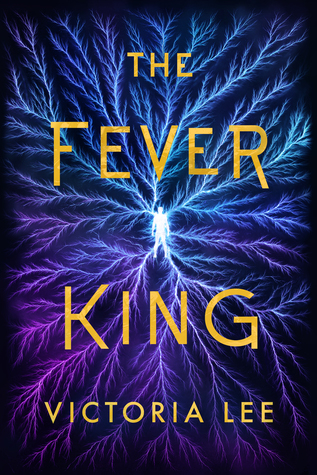 DO YOU USE THE STAR RATING SYSTEM?
Can we not just have half ratings as well? Is that too much to ask? I liked Isabelle's response with having a Highly Rec, and so on. I don't mind the stars, I just hate it because not all my 3 stars are the same, like a mystery 3 star holds a different weight than a poetry 3 star and so on.
ARE YOU DOING THE 2019 READING CHALLENGE?
Yaaaaaaaas.
I already beat my challenge. I have exceeded my own expectations. Whoops. [That never happens]
DO YOU HAVE A WISHLIST?
No. My want to read is just like 'oh I may someday get to this before I die' I tend to keep my wishlist separate on Amazon. They are the ones that I know I'll definitely get.
WHICH BOOK DO YOU PLAN ON BUYING NEXT?
I've been doing a lot of preorders lately, well, I say a lot, but more than usual as I try not to buy books but I've been going wild these past few months and really need to slow my roll. That being said, the next preorder coming out is Descendant of the Crane, and I am very very very very excited about it.
DO YOU HAVE ANY FAVORITE QUOTES? SHARE A FEW!
Yes. I actually have to laugh because half of them were just accidental highlights of random crap but I do have real highlights and quotes!
Each of our careful footsteps tapped home the message that we had come to a lawless place of death, a place where the hopeful invention of fearful man that I clutched in my hand would likely prove a feeble defense, and where the answers to greater mysteries than those we'd spent the last dozen weeks trying to unravel would be made plain with brutal finality."
– Caleb Carr, The Alienist
Yes, it's a lie, but the media repeated it, and a lie repeated becomes perception, and perception is reality. Perception is also very hard to change."
– A.G. Riddle, The Atlantis Plague, Book 2
But loving lets you look, and look, and look again. You notice the back of a hand, the turn of a head, the way of a walk. When you first love, you look blind and you see it all as the glorious, beloved whole, or a beautiful sum of beautiful parts. But when you see the one you love as pieces, as whys—why he walks like this, why he closes his eyes like that—you can love those parts, too, and it's a love at once more complicated and more complete. "
– Ally Condie, Crossed, Matched #2
It's sweet to sacrifice for one we love—it's sweet to have someone to sacrifice for,"
– L.M. Montgomery, Chronicles of Avonlea
I detest poor people," thought Amory suddenly. "I hate them for being poor. Poverty may have been beautiful once, but it's rotten now. It's the ugliest thing in the world. It's essentially cleaner to be corrupt and rich than it is to be innocent and poor."
– F. Scott Fitzgerald, This Side of Paradise

Her heart is played like well-worn strings; in her eyes, the sadness sings— of one who was destined for better things."
– Lang Leav, Love & Misadventure
WHO ARE YOUR FAVORITE AUTHORS? SHARE A FEW!
Hmmm. Okay, let's see, I'll go for like 4
(Ahhh Isabelle we both have excellent taste! Tamora Pierce Rules)
HAVE YOU JOINED ANY GROUPS?
Yes! I'm not always active in them, but I usually keep up with their current reads if they have them, well, okay I try. Here are all the groups I'm in.
– GoodReads Feedback [This one is great if you want to know what's up when something on GR isn't acting as it should]
– Booksirens Book Reviewers [I don't do anything with this one but 'eeeeey it's there]
– Harry Potter Fan Club [Uh, I guess I forgot about this one, it's not very active or what I expected but not a bad group!]
– Around the World in 80 Books [Okay I want to be more active in this one but it's hard to get the books for it, but it's pretty awesome anyway]
– Juliet's Library Book Club [I'm still on the waiting list for the book from last month from this group, but it's got some great picks!]
– Agatha Christie Lovers [Are we even surprised? They're reading Murder on the Orient Express right now so I skipped ahead and read next month's book since I didn't want to reread the current pick yet.]
– 2019 Reading Challenges [This group is amazing, different reading challenges divided by monthly, quarterly, yearly, I'm doing three yearly challenges, the GR challenge itself, clear the shelves and reading prolific works by an author!]
Who Do I tag?
You. All of you. Please, take this tag, hoard it, use it, and if you want to be tagged in this post properly, let me know!