I've decided to join the Mailbox Monday book blog meme today, brought to you by Leslie @ Under My Apple Tree.
Today was a good day for me, not so much for my poor postman.
I can say that my mini-me now has her own set of Harry Potter books! [Bahaha like I would give her mine!]
I would include a picture of her set, but, I'm tired and the books are like two rooms over, so, too much work! I will tell you they are all the celebratory editions so they all match and it makes me quite happy to say so lol.
If you're curious they look like this: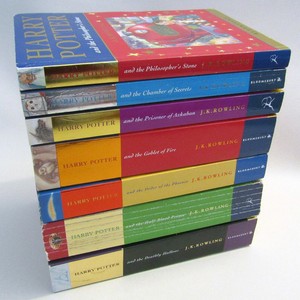 Then, of course, I got something for myself! I present to you my newest book additions:[mind you I bought these before I went crazy at the charity shop!]
I got a great deal on those used, but they look brand new! This does mean that I'll have to wait until Rebel is on paperback before I buy it, you know if I love the series but I feel like I will, if I don't love it I'll probably donate it.
This week I'll be finishing Book of Dust; Belle Sauvage and Serving the Servant, so I'll have at least one review if not two this week along with a February Wrap-up and February Book Haul post!
What book mail did you all get? I totally want to know, so please drop a link or tell me in the comments.