Another review, I know, I know, I promise guys, non-review posts are coming! I just want to get some of these out before the books are out there. [In this case, before it hits UK shelves]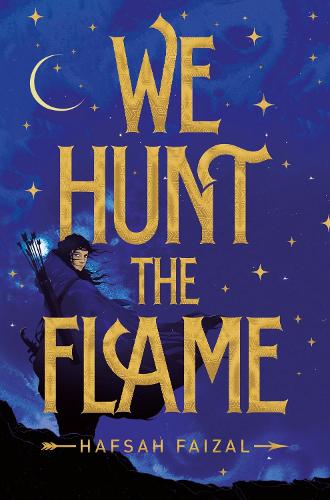 GoodReads:

People lived because she killed.
People died because he lived.

Zafira is the Hunter, disguising herself as a man when she braves the cursed forest of the Arz to feed her people. Nasir is the Prince of Death, assassinating those foolish enough to defy his autocratic father, the king. If Zafira was exposed as a girl, all of her achievements would be rejected; if Nasir displayed his compassion, his father would punish him in the most brutal of ways. 

Both are legends in the kingdom of Arawiya—but neither wants to be.

War is brewing, and the Arz sweeps closer with each passing day, engulfing the land in shadow. When Zafira embarks on a quest to uncover a lost artifact that can restore magic to her suffering world and stop the Arz, Nasir is sent by the king on a similar mission: retrieve the artifact and kill the Hunter. But an ancient evil stirs as their journey unfolds—and the prize they seek may pose a threat greater than either can imagine.

Set in a richly detailed world inspired by ancient Arabia, We Hunt the Flame is a gripping debut of discovery, conquering fear, and taking identity into your own hands.
Glossary & Pronunciation Guide
This book was built upon layers and layers of lush landscapes, history, and culture. This was a work we all needed to help diversify the pool of fantasy, and the writer's style is strong and enchanting. I found myself really pulled into this world, there was such a darkness in the shadows and in the characters that I loved and I praise them for not being always good or always sure, they were not just morally grey as people so often are but conflicted and constantly striving to do right [or wrong/what they think is right] and that's important in a YA fantasy. It's not a quick light read but engrossing and dependent on the reader's desire or ability to get lost in its words.
I would have rated it five stars but there were times where I felt the pacing was a bit skewered, not necessarily in the plot but within the love interests and their personal journies. That and I do feel like some parts stretched on, but honestly, that could easily be attributed to me being impatient while reading this because I really wanted to know how things were going to turn out. I will be waiting -impatiently of course- for the next book.
I did adore all the characters though and cannot wait to read the next book, their zumra was amazing and there was not one character I disliked in the book, not even the villain. Faizal did a great job creating these characters and such an enriching world.
The worldbuilding as I mentioned earlier was 'lush' and that would even be an understatement. There's such a history and knowledge in her writing that it's hard to believe these lands don't actually exist and the journey of the characters is much like every good fantasy, one of adventure and for a noble cause, well in a way a noble cause. There are many trials for them all and bonding in a land that holds more power than anyone could imagine.
We Hunt the Flame switches between the POVs of Zafira and Nasir, and I'm hoping that we'll get to know more about Kifah. She was by far my favorite character though, I loved them all and Altair was definitely a hoot!
On a whole there was little to no fault in this read for me, I give it four full cups of coffee
Thank you to NetGalley and PanMacMillan for an egalley in exchange for my honest review.