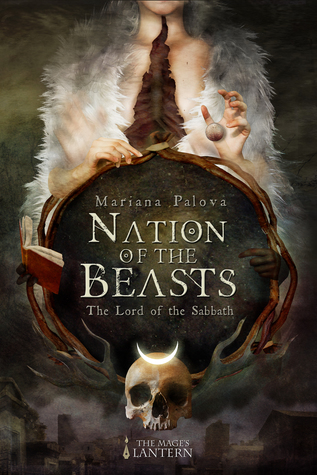 Goodreads Blurb: Terrifying creatures, unseen to all around him, have tormented Elisse since he was a little boy. These "night terrors" and the cruel life as a young Westerner in a refugee camp have left him isolated and alone. The only clue to his past is an old, tattered envelope with a picture of his father who mysteriously abandoned him at a monastery as a baby.

When Elisse flees India and journeys to New Orleans in search of his father and the truth of his troubled existence, he finds not only the answers to his extraordinary life, an ancestral secret with a grave responsibility, but also the one thing he most desires. A family—but of beasts.

Now, Elisse's awakening gifts attract dark forces rooted in Louisiana magic, and he must do the unthinkable to protect everyone he loves. Will Elisse accept the burdens of his gifts and conquer darkness? Or will that same darkness consume him and destroy the love he so desperately longed for?

Mariana Palova's debut novel, Nation of the Beasts: The Lord of the Sabbath, is an unforgettable journey of magic, heartache, and the unbreakable bonds that span this world and the other."
Palova gives us a creepy and dark horror novel that submerges you in a world of voodoo, beasts, and deals that never seem to be what they seem. Then again nothing is what it seems in Elisse's world. Not only that but she's given us an androgynous character and though there is love and pain and obstacles to cross, this book is no love story and that makes me enjoy it all the more because she promises to extend this world and Elisse so that you're left with a feeling of wanting to read straight on to book 2 once you reach the end, which is of course impossible. The characters are diverse, some are 'gruff' and rough around the edges but many have enough facets to satisfy character driven readers. At some point the character growth does slow but it's necessary to move forward with the plot once certain actions are needed/put in place. The reason this didn't get a higher rating from me was, purely, because I feel the translator and the translation itself might have lost some of the absolute magic that Mariana has written for us. I am planning on reading this in its native form next, in Spanish and hopefully, that will be soon.
[Content Warning: This is an exceedingly dark novel, there is violence/blood/gore/death and nightmarish things that go bump in the night.]
–call it loneliness or despair, sometimes the world has to treat you the worst to make you crave the best." (quotes are subject to change as this was a review copy and not a final copy and therefore may not exist in the final version)
Pros:
– Dark and creepy
– Fusion of different culture folklore traditions which works well for New Orleans
– Androgynous protagonist
– Things that go bump in the night
Cons:
– Hmm a bit of weird pacing again, things seem to happen in just a matter of months but it feels like it should take longer
– Not enough depth for Elisse but there is more to come
– Some things mix together too much as far as like the action that's happening and it's hard to discern it at times
– You didn't get enough to know much about the other characters
– Things were not always clarified…and on that note…
– I think the translation could have been better and rectified some of these small cons.
There we have it, some good, some bad, but enough good to keep me going onto the next and hopefully reread this one in Spanish.
Toodles!