I realized something the other night, I was talking books with a friend and it just hit me.
I'm so lucky.
Incredibly lucky.
Because my husband and I share a very deep love of reading. [And many other things of course!]
In my previous relationship, and don't worry I'm not here to give you all my sob story, nor lament about the past, but, we didn't really share that sort of hobby.
When my husband and I first started dating we shared a love of Mass Effect [We fought over Garrus, but I won.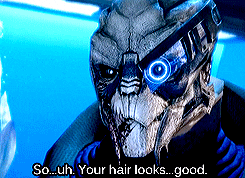 And it wasn't until a couple months in that we started talking books. I lent him my Ender's Game and I borrowed his God Knows. [I loved Joseph Heller's voice in this, and it's not really a religious book, it's more a satire of sorts, however, it was way too repetitive so I didn't get to finish it, but I'm giving it another go]
Eventually, I finished my grad course at Uni and had to go back to Texas, and we'd decided to continue our relationship. When we parted out the airport it was a bit emotional but he sent me with his favorite book Catcher in the Rye, which though I'd already read, he wanted me to have because he left a note in it saying, 'Now I have a reason to come visit, to get it back.'
This didn't stop there, he sent me a beautiful copy of one of my favorite Dickens books I didn't know, Great Expectations and said that the quote on the cover was how he felt about me. ["You have been in every line I've ever read."] He also sent me The Halloween Tree after he learned how much I wanted to read it, and I got him a kindle, and the Black Friday we did was Half Price Books and Barnes and Noble. Now the purpose of this isn't to rattle off everything we ever bought each other that was bookish, that would be a bit obnoxious and annoying, to be frank, lol. The point of this is, I have a partner who supports my reading, he supports my music and everything I do but with books, we get to share it. We read For Whom the Bell Tolls together when we were apart just so we could share in the book together as we couldn't be there with one another.
We both love classics and looking for old editions of them to add to our collection. He will sit and listen to me talk about all sorts of books, in fact, I was talking about Twilight (don't ask haha) and he gave me his full attention, and he didn't have to. He'll ask me where's his artsy book pic when he's at work because he knows I'll try to take one for my bookstagram, and there's nothing more fun than when we talk Hemingway together. [Though thankfully he shares none of Hemingway's relationship habits, the tool of a genius]
Today we took mini-me to Waterstones for her free book for World Book Day and then the three of us looked around books in the charity shops and it was a perfect day. ❤
He is my other half, and my god if I don't want to kick his ass sometimes, we're not perfect, and trust me he is within his rights to want to kick my butt too lol. But to have a relationship where there is such a mutual love of books and literature is something that I never thought could happen for me. It was a rough ride to get to him but completely worth it in the end.