The day after they moved in, Coraline went exploring….

In Coraline's family's new flat are twenty-one windows and fourteen doors. Thirteen of the doors open and close.

The fourteenth is locked, and on the other side is only a brick wall, until the day Coraline unlocks the door to find a passage to another flat in another house just like her own.

Only it's different.

At first, things seem marvelous in the other flat. The food is better. The toy box is filled with wind-up angels that flutter around the bedroom, books whose pictures writhe and crawl and shimmer, little dinosaur skulls that chatter their teeth. But there's another mother, and another father, and they want Coraline to stay with them and be their little girl. They want to change her and never let her go.

Other children are trapped there as well, lost souls behind the mirrors. Coraline is their only hope of rescue. She will have to fight with all her wits and all the tools she can find if she is to save the lost children, her ordinary life, and herself.

Critically acclaimed and award-winning author Neil Gaiman will delight readers with his first novel for all ages.
My Review
Guess who wrote no notes for this and didn't realize that until right now and read this all the way back in March? Meeeee.
Okay, let's see what my memory can drudge up, considering my old age, it may not be much.
First off, holy cow, Goosebumps has some competition with this book! I wasn't sure how creepy it was in comparison to the movie [I watched the movie first] but it was certainly creepier lol which is impressive.
Coraline's not thrilled with the move, add onto it that their new place is odd and filled with boring adults, well, it's just not a great time for her.
Still, she finds something that intrigues her, a tiny door that leads to seemingly nowhere these days, bricked up to keep the apartments separated.
Gaiman has a good handle on changing his writing style for a multitude of age ranges and this was no exception.
The mystery behind the door is incredible, the world is a more vibrant version of the one Coraline lives in, all the way down to her parents. But there's something…unnatural about the button eyes they have.
Coraline easily overlooks that as she enjoys the better food, toys, and neighbours. But, soon something isn't right and she learns that this isn't the first time these parents have had a child come visit.
The lost souls of the children are there to warn and help Coraline as she tries to avoid becoming just like them, and learns she also has to rescue her real parents too.
The search is on and it's a dangerous game Coraline plays, but, her other mother loves games and this is the only hope she has of escaping.
Thoroughly creepy but satisfying. I love that Coraline uses her wits and the help of some new friends to help her, and I thought the ending was perfect. The book may be a bit too creepy for some MG readers, but, the ending will help assuage some fear.
Coraline is able to see the good parts about her new home and neighbours, to appreciate her parents again, and have a great adventure.
5/5 Cups of coffee from me, Spawn has read some but she did get scared so we've shelved it, by the way, I did not tell her to read it, she asked if she could, I said it was a bit scary so she tried it and decided to try it again another time when she was ready. Just don't want anyone thinking I'm making spawn read this and have nightmares!
The Film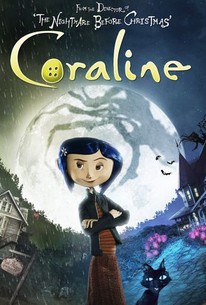 Because I saw this first, I have a soft spot, my rating is based on this as a film alone instead of how it ties into the book which I really should do but even after rewatching this and reading the book, I still find I love it.
It's not the same but the core of it is, it makes a couple of changes and I think time constraints played a part in that. The changes that were made that had nothing to do with time were just simply creative ones, and I liked them. The claymation in this is absolutely stunning and Coraline is still just as brave as she is in the book. I also enjoyed the ending to this one.
ALSO!!! The soundtrack is A+++ I LOVE IT SO MUCH.
The differences:
Part of the challenge is left out from the movie, it involves a basement-like scene, I don't want to spoil it, so I'll keep it vague. But I do get why they left it out lol.
Coraline is a bit more of a 'brat' in the movie and sassier lol
Wybie is a character completely for the movie, I'm guessing to give her a friend who is a kid, which she doesn't have in the book.
The book ending is more intentional, the movie ending is more 'react to the situation'
Coraline's parents are more in the book than the movie
Coraline is more aware in the book, but I find that she has more character development in the movie BECAUSE she's not as aware
Final Verdict
The book is probably better when you get down to it all and compare the ideas, but, I still equally love the movie because of its differences. 5/5 for both, but the book is better executed and has the better Coraline.