Synopsis: 

Famed for its natural beauty and rich history, Sardinia in 1968 is notorious, too, for the bandits who kidnap wealthy landowners for ransom. Eleven-year-old Alba Fresu's brother, and her father, Bruno, are abducted by criminals who mistake Bruno for a rich man. After a grueling journey through the countryside, the two are eventually released—but the experience leaves Alba shaken and unable to readjust to normal life, or to give voice to her inner turmoil.

Accompanying her mother to cleaning jobs, Alba visits the villa of an eccentric Signora and touches the keys of a piano for the first time. The instrument's spell is immediate. During secret lessons, forbidden by her mother, Alba is at last able to express emotions too powerful for words alone. Ignoring her parents' insistence that she work in the family's car dealership and marry a local boy, Alba accepts a scholarship to the Rome conservatoire. There she immerses herself in a vibrant world of art and a passionate affair.

But her path will lead her to a crossroads, and Alba will have to decide how to reconcile her talent with her longing for love and family, and convey the music of her heart…


Book Information:
Written by: Sara Alexander
Published by: HQ
Publication date: 22/08/2019
Format: Paperback Original £7.99 [Available in eBook & audio]
My Review
I know I've said it probably about fifty times by now but as a musician, I tend to be drawn toward books that have music in them. The fact this one had a different musical term each chapter and sections divided into movements, well, I'm completely biased in loving that part of them. But, I'm here to talk about the content of this book, which took me on an extraordinarily emotional rollercoaster. This is a story about a woman having the courage to go after what makes her passionate, music.
The first chapter was a bit of a hesitant introduction for me, but the moment I got past it, it was like something just clicked in me. I could recognize a love of music and the difficulty of perhaps wanting different things than are expected of you. And I'm sure a lot can relate to one or the other if not both. Alba is quiet, the power of her voice is put into her music, and even then, due to her past, she would restrict it and the power of finding her voice.
Seriously, watching her deal with her childhood as being the odd one out, and a girl in her household to experience life in Rome and as a concert pianist, it's all wonderful and you just want the best for her but Alexander gives us a healthy dose of realism in that she gives both highs and lows. Some things are so soul-crushing, I just want to hug Alba but you know that she is going through this route because she's chosen music. And to be fair this ending won't have you crying like a baby in sorrow, so, it's got a satisfying ending.
Alexander enthrals with her descriptions of music and food, and for me, well, I delighted in the musical descriptions but I do think that if you're not a fan of heavy descriptions you may not appreciate this paint brushing of each scene before you.
Alba deals with issues from the past that follow her, whether they arise from family or past lovers and I loved watching her handle things differently as she grows up and oh, that ending. ❤
If you are interested in reading a book about a woman following her dream against the odds, that has believable romance subplots, and a healthy dose of humanity, I definitely recommend reading The Last Concerto. Four cups of coffee from me!
About the Author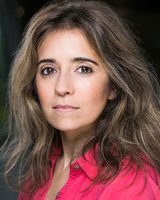 Sara Alexander attended Hampstead School, London, and went on to graduate from the University of Bristol, with a BA hons in Theatre, Film & TV. She followed on to complete her postgraduate diploma in acting from Drama Studio London. She has worked extensively in the theatre, film and television industries, including roles in much loved production such as Harry Potter & The Deathly Hallows, Doctor Who, and Franco Zeffirelli's Sparrow. She is based in London.
GIVEAWAY ALERT
I happen to have an extra copy, thank you HQ Stories, so you know that means? GIVEAWAY TIME! [UK Only this round guys] Comment on here for an extra chance to win a copy, follow/RT on twitter for the 'first' chance!
The Rest of the Tour