DO NOT JUDGE ME, I KNOW THIS IS A VERY LATE REVIEW.
I…I just got busy and finally, I read it. It's part of my attempt to slay the crap out of my NetGalley list so I can go into 2020 not feeling overwhelmed lol.
We'll see how that goes hahaha.
Onto the book!
All sorcerers are evil. Elisabeth has known that as long as she has known anything. Raised as a foundling in one of Austermeer's Great Libraries, Elisabeth has grown up among the tools of sorcery—magical grimoires that whisper on shelves and rattle beneath iron chains. If provoked, they transform into grotesque monsters of ink and leather. She hopes to become a warden, charged with protecting the kingdom from their power.

Then an act of sabotage releases the library's most dangerous grimoire. Elisabeth's desperate intervention implicates her in the crime, and she is torn from her home to face justice in the capital. With no one to turn to but her sworn enemy, the sorcerer Nathaniel Thorn, and his mysterious demonic servant, she finds herself entangled in a centuries-old conspiracy. Not only could the Great Libraries go up in flames, but the world along with them.

As her alliance with Nathaniel grows stronger, Elisabeth starts to question everything she's been taught—about sorcerers, about the libraries she loves, even about herself. For Elisabeth has a power she has never guessed, and a future she could never have imagined.
Purchase Links
**The links to the book used in this post are Affiliated links, should you click on my links and use them to purchase this book, it will gain me some monies, and will cost you nothing, but gotta disclose this first.**
My Review
I decided I couldn't let 2019 pass without having read this. book. Rogerson has nailed down such an awesome magic system and the libraries are definitely my favorite part. I mean, magical grimoires, magisters who get their magic from a demon bond, and librarians who are absolutely kick-ass? YES TO ALL THAT.
Silas and Magister Thorn were hands down my favourites but Elisabeth had so much heart and sincerity it was impossible not to care for our protagonist. She's a cinnamon roll with amazing strength [physically and internally] and I adored that she was tall.
As a short person, I want to be tall. I want to be able to look over people's heads and I think that so often we associate female characters with being fierce and dainty, but, what's wrong with being tall and fierce and with a kind heart? We need all sorts of different looking characters.
The complexity of the bond with demons and magisters is so unique. One provides magic, one provides years. I loved watching Elisabeth learn more about magisters, to realize maybe learning from the Library, where magic is held as a sinister danger, could have led to some biased views on her part. But, she's not above learning to adjust her views.
Elisabeth and Silas's interactions were some of my favorite to read, they had such a unique bond and the honesty between them is what I enjoyed most. But I definitely appreciated the friendship between Katrien and Elisabeth and I want Katrien to have a book of her own lol.
The banter that came from Nathaniel was A++ stuff, and I loved him so much, but this is where I give you all my grievances.
The only reason I did not rate this five stars is because, despite how much I absolutely LOVED this book, I just felt like something was missing from Nathaniel and Elisabeth's interactions and relationship in general. I just wanted them to have a more genuine connection than we got. I did feel as if Silas and Elisabeth had better interaction, not romantically, just for a genuine friendship.
There are more moments of Silas and Elisabeth interacting than Nathaniel and Elisabeth and because of the lack of interaction, and the shallow level of their interactions, I found it hard to believe they were connected so deeply.
The ending was on point!! I definitely found myself going 'WHY' even though I had a feeling I knew what was coming, it didn't make it any less enjoyable or impactful.
The pacing was well done, Silas and Elisabeth well fleshed out, and great development in Elisabeth. We needed more Katrien, but, I can live with the awesome moments she did have, and Nathaniel's snark/sarcasm was amazing and aspirational lol.
There was a superb villain, and I could have read about the libraries all-day long.
As many have asked, why is this a standalone?! I NEED MORE!
Thank you to NetGalley and the Publisher for an eARC of this in exchange for my honest opinion.
Pros:
-Unique Magic System
-Magical Libraries
-Kick-ass Librarians
-Katrien
-Silas's fashion sense
-Nathaniel's wit
-Elisabeth's heart
-Devious villain with devious plotting
-Books with thoughts and souls
-Magical Books
Cons:
-Not Enough Katrien
-Not many moments with Elisabeth and Nathaniel
-Not enough magical library moments
-Sometimes could be too predictable
-Shallow feeling to the relationship between Elisabeth and Nathaniel
-Wanted More World Building because it seemed awesome
-It's a standalone
About the Author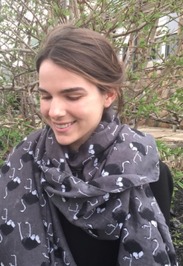 Margaret writes fantasy for young adult readers. She lives near Cincinnati, Ohio, and when she's not reading or writing she enjoys drawing, watching documentaries, making pudding, gaming, and exploring the outdoors in search of toads and mushrooms.
Author Links