In this mesmerizing sequel to the New York Times bestselling Girls of Paper and Fire, Lei and Wren have escaped their oppressive lives in the Hidden Palace, but soon learn that freedom comes with a terrible cost.

Lei, the naive country girl who became a royal courtesan, is now known as the Moonchosen, the commoner who managed to do what no one else could. But slaying the cruel Demon King wasn't the end of the plan—it's just the beginning. Now Lei and her warrior love Wren must travel the kingdom to gain support from the far-flung rebel clans. The journey is made even more treacherous thanks to a heavy bounty on Lei's head, as well as insidious doubts that threaten to tear Lei and Wren apart from within.

Meanwhile, an evil plot to eliminate the rebel uprising is taking shape, fueled by dark magic and vengeance. Will Lei succeed in her quest to overthrow the monarchy and protect her love for Wren, or will she fall victim to the sinister magic that seeks to destroy her?
Purchase Links
**The links to the book used in this post are Affiliated links, should you click on my links and use them to purchase this book, it will gain me some monies, and will cost you nothing, but gotta disclose this first.**
My Review
Content/Trigger Warning: This book has death, alcohol abuse, violence/gore, and the dealing with PTSD/Long term trauma due to sexual assault, abuse/violence.
Hi, my name is Haley, and this book broke me.
Which means 5/5 of course.
Onto the review.
This pretty much picks up where 'Girls of Paper and Fire' left off, just letting a bit of time lapse [like a matter of a weeks].
Lei escaped the Moon Ball, she had done a service to Papers everywhere with her actions that night, and now?
Now it's time to prepare for War. The time is near to strike a blow to the Royal Court that will completely end the reign of terror that has been the life of papers everywhere since the first Bull King ascended to rule.
Wren and Lei must go on a 'quest' to get more allies for the Hannos and they're joined by fellows all joined together for the same mission.
Bo and Nitta were hands down my favorite characters though I also really enjoyed Merrin our demon owl and flier extraordinaire.
Wren's instructor Caen teaches Lei how to handle a weapon and I really enjoyed the fact that Lei is having to learn while surrounded by basically masters. But where she likes in weapons training, Lei makes up with heart, she's still kind and strong in other ways.
One thing this book deals with is the long term effects of trauma, how, just because you've left/escaped a situation doesn't mean that you can just leave it all behind. It will follow you in a lot of ways, so, while Lei and Wren are together and out of the clutches of the Hidden Palace, they're still struggling to deal with the events they went through there.
This also means that while Lei and Wren are going on adventures and still having fun, they are in some heart breaking ways, not the same girls they were before.
Ngan's handling of this was SO well done. Both girls deal with what happened to them in different ways, and with what they've been through, this also means that in a lot of ways they're closer than before, as they're no longer surrounded by girls who understand their situation but others who can't truly understand what they've been through.
Still, as all couples do, Wren and Lei have their own set of relationship challenges. AND ON MY WORD THEY BREAK YOUR HEART. NGAN DESTROYS YOU BETWEEN THAT AND OTHER HAPPENINGS THAT I SHALL NOT SPEAK OF.
Anyway, this book is the lead up to what promises to be an epic showdown, and I'm 100% there for their mission and challenges they've faced.
The thing is, war comes at a cost, but what will the cost be for Lei and Wren, and who is willing to pay too much?
Pros:
– Lei and Wren
– Bo and Nitta
– Queer love to make your heart soar
– Desert ship
– More amazing world building
– Adventures galore
– Squad Goals
– Sobering look at what trauma can do to people in the long term
– Still get to have quick flashes of what's going on in the Hidden Palace
– Lei who is a cinnamon roll, wielding a dagger.
Cons:
– This book will break your heart
– This book ruins your life [albeit in the best ways]
– Chapter 23. You know what you did.
Thank you to NetGalley and Hodder for a chance to read this book in exchange for my honest review.
If you're wondering how I'm handling this book, well, I'm not lol.
About the Author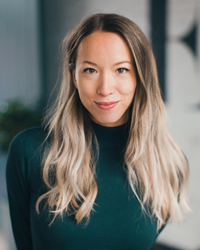 Natasha Ngan is a NYT bestselling author and yoga teacher. She grew up between Malaysia, where the Chinese side of her family is from, and the UK. This multicultural upbringing continues to influence her writing, and she is passionate about bringing diverse stories to teens. Natasha studied Geography at the University of Cambridge before working as a social media consultant and fashion blogger.

She recently moved to Paris, where she likes to imagine she drifts stylishly from brasserie to brasserie, notepad in one hand, wineglass in the other. In reality, she spends most of her time getting lost on the metro and confusing locals with her French.

She is represented by Taylor Haggerty at Root Literary. Her YA novels THE ELITES, THE MEMORY KEEPERS, and GIRLS OF PAPER AND FIRE are out now. GIRLS OF STORM AND SHADOW will be published in November 2019 by Hachette.
Author Links